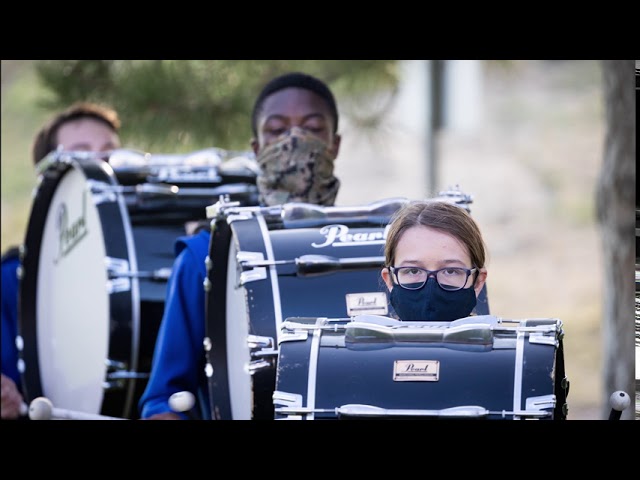 Wolf Pride 2020
CONTINUE
Mission
A co-curricular performing group that ALL band students at Grandview can aspire to create outstanding music, develop student leadership, and represent the school and community with great pride and enthusiasm.
Goals
Establish and maintain a culture of excellence in music making and pride in membership of the group
Successful, superior level musical performances
Pride of Grandview High School
Continued participation of upperclassmen
Provide a vehicle for students to develop as leaders
Schedule
ATTENDANCE IS CRITICAL TO SUCCESS!!!
Football games are held at Legacy Stadium next to Cherokee Trail High School. Students are transported back and forth by school bus from Grandview
Commitment
Wolf Pride Band Students will:
Make a strong commitment to the success and superior performance standard of the Wolf Pride Band
Attend all rehearsals and performances
Maintain their grades in accordance with eligibility rules
Percussion
Students will audition for Drum Line
Students will be placed on a drum for the entire season
Students will work with a percussion instructor throughout the fall season
Students will have extra practice in the summer to set up success
Staff
Mr. Keith Farmer – Director
Mr. Royce Ehrle – Assistant Director
Mr. Mike Nevin – Percussion
Dr. Ryan Spencer – Brass/Visual
Ms. Liz Richardson – Woodwinds
Ms. Leanne Stiles – Color Guard
Updates
Across the Cherry Creek School District, high school marching bands are finding new ways to make music and generate school spirit, despite the COVID-19 pandemic.
If you need to rent an instrument, please access and submit this form:
Grandview High School Wolf Pride Band